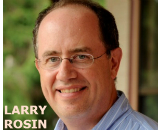 This guest column is contributed by Larry Rosin, President of Edison Research. It was first published on The Infinite Dial blog.
---
I'm a huge fan of Alex Blumberg's podcast series "StartUp." It's a narrative podcast about his efforts to start a podcasting company. Anyone interested in podcasting, or in starting a business, or just in an enjoyable story to pass the time with should check it out.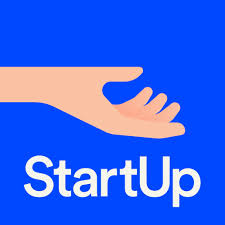 There is one moment in the series that especially sticks with me. In one episode he mentioned the success of the podcast "Serial" and then said something along the lines of: "If you haven't heard of 'Serial' you really should check it out – but I can't imagine anyone listening to this show who doesn't know 'Serial.'"
Then on the next episode Alex mentions that he was inundated with responses from people telling him that they hadn't been aware of "Serial." It makes sense – once you enter the podcasting world – it almost seems like podcasts are everywhere. Saturday Night Live did a take on "Serial." The ultra-middle-brow sitcom "The Middle" did a whole episode where their youngest child started a podcast.
How could it be that only half of everyone even recognizes the term 'podcasting'? How could it be that only 10% of the American population has heard of 'Serial'?
Well of course — the other way to look at both of those stats is: "Wow! Half of all Americans have now heard of Podcasts!" and "Wow! One-in-Ten Americans have heard of a single Podcast that was promoted on 'This American Life' and otherwise grew virally!"
Of course, even within the world of podcasting there are lots of podcasts and lots of different kinds of people listening to them. Not everyone is taking their podcasting sustenance from the Public Radio cup of "This American Life," "RadioLab," and their various offshoots and cousins.
To further emphasize the point – I looked at awareness of Serial by different groups. As the graph below shows – even among the most avid podcast consumers, not even 1-in-3 has heard of "Serial."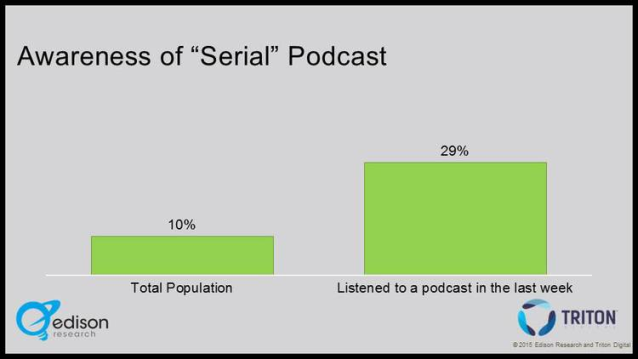 Podcasting is a growing, diverse platform that still has a long road to full maturity. It has been fun to watch it develop over the years and we look forward to tracking the exciting world of podcasting going forward.