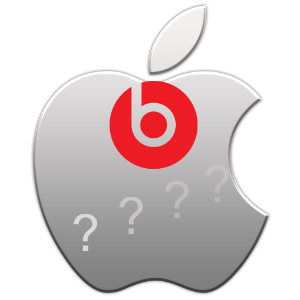 Big companies are the leakiest, it seems — especially ones that are officially secretive. The New York Times captured a carload of anonymously sourced information about Beats Music and iTunes Radio. Apple's refreshed music ecosystem is scheduled to be unveiled this summer (that's a rumor, too, but likely).
Beats Music has been operating uninterruptedly since Apple acquired it last May, but with little marketing during what could be described as a gestation period. Industry expectation is for a significant re-launch, possible re-branding, and some kind of integration with the iTunes music assets.
Renovations and Reinventions
The re-branding is one rumor the Times reasserts in yesterday's bean-spilling, which comes from unnamed individuals in Apple and in record labels working with Apple on the cost structure of Beats Music. According to the report, Beats Music will disappear as a service mark. Concurrently, the user interface will adapt to iTunes' design language. All this would be characteristic of Apple's iWhatever branding of its many moving parts.
iTunes itself will be revamped to some extent, according to reported inside information. iTunes Radio, which was launched as a rival to Pandora (and countless other Internet radio outlets), will undergo some kind of alteration, with the major rumor focusing on localization. That would be interesting, and would tie into a trend that has local online radio stations popping up in several cities. (See our coverage of pureplay activity in Portland, St. Petersburg (FL), and Cleveland.) A localized iTunes Radio would also synch with Apple's recently announced programmatic advertising initiative, in which iTunes inventory is now marketed in automated buying platforms which sell to buyers based (partly) on where listeners are located.
The Price
One important part of the leak package acquired by the Times involves consumer subscription cost for Beats Music. The monthly price will stick at ten dollars, in apparent denial of Apple's reported attempts to convince label partners to lower the consumer cost to eight dollars.
The Times article sees Apple's capitulation on pricing as a sign of reduced leverage in the music business, a point well taken. But it might not matter to customer acquisition, clearly Apple's hope. A recent study from Edison research (commissioned by Pandora and presented in its royalty-rate argument to the Copyright Royalty Board) found that non-subscribing listeners to Pandora had almost no interest in music subscriptions, even when hypothetically priced at $2.99/month, and even in a hypothetical world without Pandora. So — again, hypothetically — at $10/month Beats Music could end up with the same number of subscribers and 25% more revenue.
What about a free-listening funnel to subscription, as demonstrated by Spotify's model? None of that, according to current insider rumors. Beats Music launched without freemium (like Rhapsody, the great uncle of music subscription services, and also like Google's All Access plan), and will reportedly stay that way.
Crystal Ball-gazing
Our take? Apple/Beats is facing a steep uphill climb, notwithstanding its distribution power, for three main reasons. First, it is desperately late to the on-demand party. That is a generally undiscussed legacy from Steve Jobs, who did not believe that subscription streaming had market power. Beats Music will re-launch into an established consumer preference for free, lean-back, radio-style listening. iTunes Radio was late there, too, and while Apple does not disclose listenership, the service has not made a discernible competitive impact.
Second, Spotify is a global dominant leader in the subscription business, arguably (maybe definitively) because of its label-contested freemium plan. Free listening with a fair amount of interactivity seems to be an effective way to introduce consumers to the benefits of a cloud jukebox. Spotify's subscriber base of 15-million users eclipses other platforms which disclose their numbers.
Third, it is painfully difficult to truly differentiate a service today. This week's rumors do not hint at dazzling innovation, or "wait until you see this!" buzz. Beats Music, while beautiful and somewhat entertaining, launched as a me-too service. So the rumor undertone of genius among the leaders (Jimmy Iovene, Trent Reznor) is more about reputation than demonstration, so far.