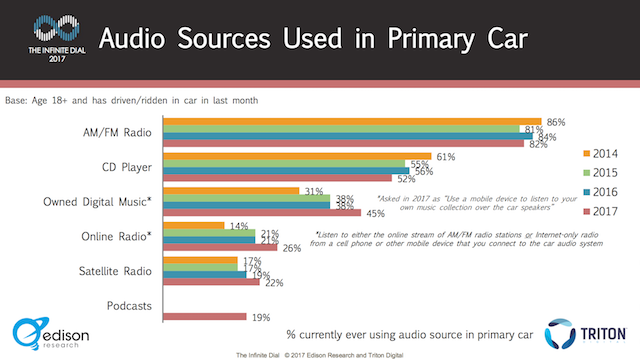 Car listening continues to be a topic of interest for the audio industry. The Infinite Dial from Edison Research and Triton Digital charted the latest trends for what people hear behind the wheel.
AM/FM radio still holds court as the top audio source used in the primary car for 82% of respondents. Several other findings showed the AM/FM radio is still top of the heap. Forty-seven percent said it was the audio source they used "most" or "all" of the time in their main vehicle.
Looking at past performance in Infinite Dial results, AM/FM radio has floated between 81% and 86% use in cars. Several categories have been growing, though. Between 2014 and 2017, owned digital music's share has grown from 31% to 45%. Online radio, which includes Internet-only radio and online streams of AM/FM, rose from 14% to 26%. Satellite radio inched up from 17% to 22%. Podcasting in cars has only been tracked for 2017, but it had a 19% share.