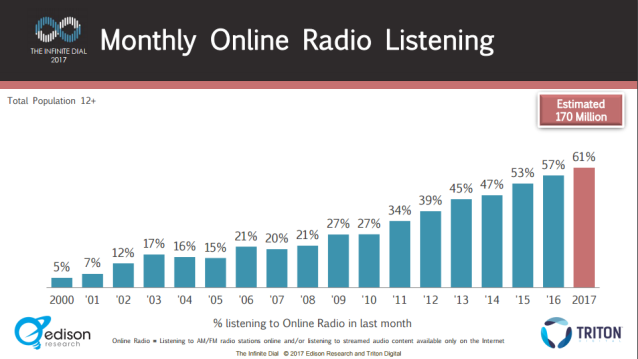 ---
170-million Americans 12 years old and up listen to online radio each month, it was revealed today in The Infinite Dial 2017, the annual consumer survey of American listening produced by Edison Research and Triton Digital. That means that online radio has a reach of 61% of 12-and-above Americans.
The research definition of "online radio" is "Listening to AM/FM radio stations online and/or listening to streamed audio content available only on he Internet." That definition includes music services such as Spotify (the free service and the subscription plan), Apple Music (which is membership-only) and all other online-only audio experiences plus radio station streams.
Along with tat reach comes a certain degree of frequency. An estimated 140-million people listen weekly, representing a 53% reach for the broad definition of "online radio."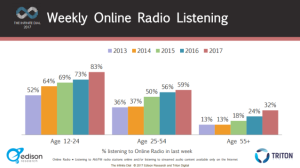 Weekly listening has trended upward across three age demarcations, and is skewed to young listeners. The 12-24 group is the most avid adopter of online radio, with 83% listening weekly, compared to 73% in the 2016 report. the 25-54 groups is at 59%, and the 55+ crowd is at 32%. Each group has grown year-over-year since 2013.
Edison also showed a longer trendline in the Infinite Dial webinar today. Only five percent of Americans had adopted online radio as a monthly habit in 2000. Audience growth was erratic until 2011 — which, either causally or not, was the year Spotify brought its free-listening plan to the U.S.
What about time spent listening (TSL)? that interesting metric leapt to a new high after two years of decline — and substantially, from 12:08 (hours:minutes) last year to 14:39. In today's webinar, John Rosso called this "one of the biggest surprises" in this year's survey. He also said that TSL represents about 2-billion listening hours.
Online radio listening in the car claims 40% in the study's "have you ever" question. that number has grown from 6% in 2010. It is a RAIN prediction that the reach of online radio in the car will increase year over year in the foreseeable future.
---