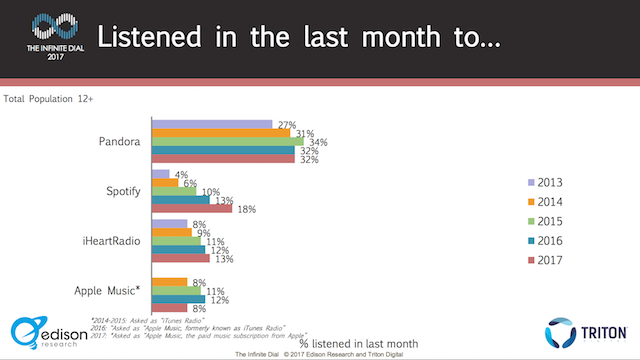 Pandora continues to top the rankings of audio brand awareness in the Infinite Dial. According to the data from Edison Research and Triton Digital, 86% of respondents were aware of Pandora. iHeartRadio came second with 71% awareness. Spotify's 62% awareness put it third, followed by both Apple Music and Amazon Music at 60%.
Translating that awareness into action, Pandora also led the rankings of who listened to the various services in the past month with 32%. Spotify's 18% beat out the 13% share for iHeartRadio. However, looking at the age breakdowns of the past month's listenership, some striking trends emerge. From 2013 to the present-day results, Pandora's percentages follow a bell curve across all ages.
Spotify, on the other hand, has posted growth every year for the general audience and for the 12-24 age group, where it secured 45% in 2017. For the 25-54 age group, Spotify has also been trending upward in recent years. When the timeline scope is narrowed to listenership in just the past week, the overall trajectories of the data are the same: Pandora hit a peak around 2015 while Spotify's star is only looking up.
Most of the graphs from the Infinite Dial show a market-leading stance for Pandora, but the final graph for this section demonstrates that the lead is narrowing. Pandora is the audio brand used most often by respondents, but at 40% share, that's a notable dip from 54% in 2015. In contrast, Spotify's share has steadily risen from 10% in the 2015 results to 21% in 2017.
While iHeartRadio has maintained about 10% of the responses for most-used audio brand, Apple Music's share shrank from 10% in 2016 to 6% in 2017. That could be because the catch-all "Other" category of brands has grown to a 23% share as more and more audio companies throw their hats into the digital listening field.