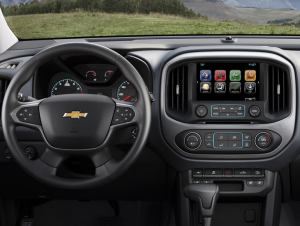 We noted in Inside Radio that GM and AT&T have partnered to provide in-car WiFi across the GM model line of cars equipped with OnStar 4G LTE WiFi hotspot technology. The headline is the price: $20 a month for unlimited data. The announcement was made earlier this month.
That dollar number is a milestone in the continuing price war among mobile phone carriers for unlimited data to slake the media thirst of consumers eager to stream music and movies at any time, anywhere, without limit. Extending that battle into cars is a powerful move for GM, an important selling point to car buyers, and a possible acceleration of the challenge facing traditional radio as screens filled with apps replace dial-and-button receivers.
The highest-level previous OnStar connection plan was $40 for 10 gigabytes of data.
Currently, in-car connectivity to internet media is accomplished mainly via the smartphone's data connection. It is the phone which powers Apple CarPlay and Android Auto, leading providers of digital dashboard control of infotainment. That connection scenario adds a step to the process of accessing the phone's online audio apps (e.g. Pandora, Spotify, podcasts).
The obvious solution is internet connection built into the car, and the obvious drawback is the cost of adding another data plan to the driver's monthly stack of bills. The $20/month price point established by GM and AT&T is a stake in the ground of affordability.
The challenge to terrestrial radio is not existential, in our view. There will always be demand for radio's personality, locality, and real-time information. The key challenge is a progressive inversion of ease: In other words, as online audio becomes easier to play in the car, radio will become less easy as the dials and buttons disappear. Ease of use is a key determinant of what consumers use. As radio becomes one app among many in a car's connected screen, choices are equalized.
The GM/AT&T venture points toward an ultimate realization of the connected car trend, which is that the car becomes a big smartphone that you sit in. Or, put another way, the car becomes a rolling version of a connected home. Either way, ease of connection is the key to widespread online listening in the car.