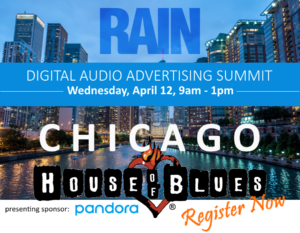 Research, programmatic advertising, creative audio branding, and podcasting are key topics at the RAIN Digital Audio Advertising Summit on April 12 in Chicago, the third in a series of advertising-focused business conferences produced by RAIN in the past year. The event will take place in the famed Chicago House of Blues in the heart of River North.
After an opening address by RAIN founder Kurt Hanson, inaugurating the first RAIN Summit in his home town, RAIN President Brad Hill will take the stage with Tom Webster (Edison Research) and John Rosso (Triton Digital), for "A Deeper Dive in The Infinite Dial," peeling the layers back from that influential annual consumer study whose 2017 edition was released this month. A search for meaning and context, and a spotlight into the future.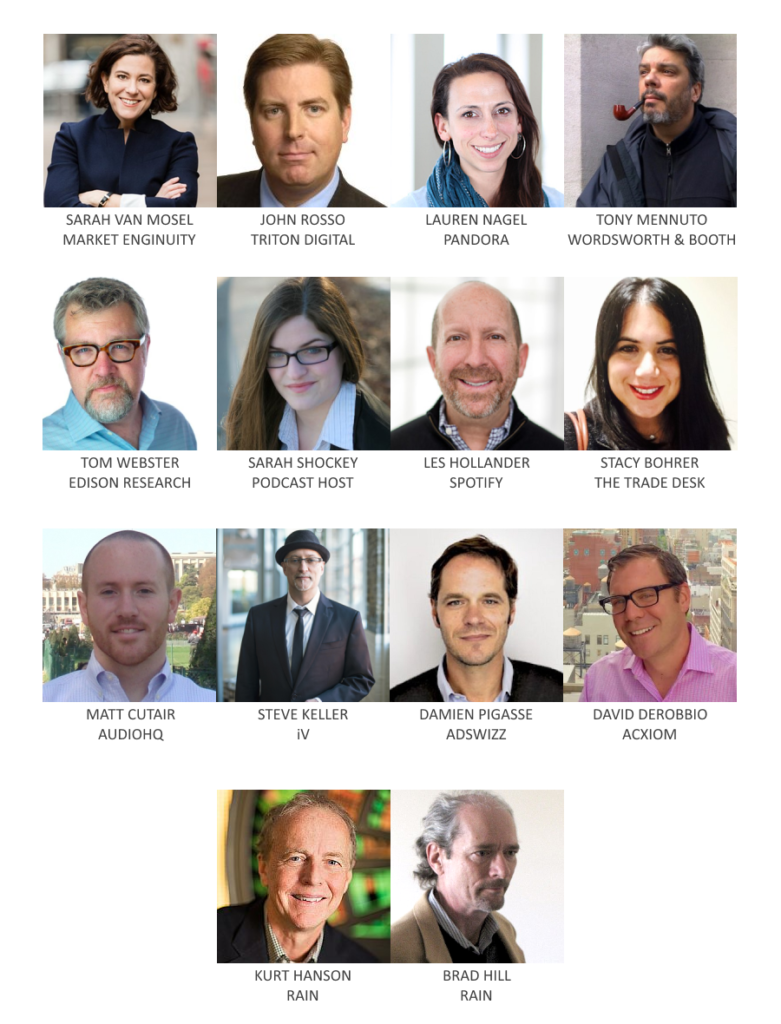 Creative audio branding is a deepening topic as digital audio advertising becomes a more important part of national ad campaigns. An exploration of this intriguing field will be led by Lauren Nagel of Pandora, who wowed attendees with an immersive multimedia presentation at RAIN's New York Summit last June.
Programmatic advertising is no longer a new phrase in digital audio advertising, and that progress is matched by a deeper understanding of the processes and platforms that run through a programmatic campaign from planning to execution to validation. Les Hollander of Spotify will guide his expert panel through a detailed and absorbing conversation, probably the technical highlight of the day.
Podcasting! It's on everyone's mind — listeners, networks, advertisers. RAIN has been covering podcasting for two years, and has the connections to bring the sharpest minds to the stage. This panel is a blend of business and talent, featuring popular host Sarah Shockey along with Sarah Van Mosel (Market Enginuity) and Anna Sullivan (Gimlet Media).
RAIN Summits are knowledge-and-networking events, and the Chicago conference adds more networking to the knowledge, in response to popular request. At this half-day event (9am – 1pm), attendees can plan to schedule meetings in the afternoon, or get back to the office if email is getting out of hand.
CLICK HERE to register today, before the ticket price goes up Thursday morning.
---