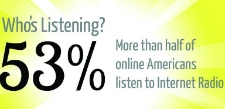 Edison Research has released a new study of streaming audio adoption, indicating that over half of the American online population listens to Internet radio. The research package, titled "The New MainStream" (get it?) details survey results of 3,014 connected Americans over 11 years old. The report was formally introduced yesterday at an Advertising Week panel in New York by Edison president Larry Rosin, in collaboration with Edison's Streaming Audio Task Force partners Pandora (Steven Kritzman), Spotify (Brian Benedik), and TuneIn (Rick Cotton).
The headline stat is this: 53 percent of online Americans listen to Internet radio to some extent. By this study's definition, "Internet radio" comprises the full spectrum of online listening, divided into three categories:
Personalized Radio: Services like Pandora or iTunes Radio which allow creation of personal "stations" based on an artist or song. (39 percent adoption.)
Streaming Live: Online webcasts of broadcast stations, not necessarily local to the listener. (27 percent adoption.)
On-Demand Music: Services like Spotify and Rhapsody which feature random access of tracks and albums. (18 percent adoption.)
Edison's survey delineates and prioritizes why people are adopting Internet radio. Choice is the differentiating thread that runs through many responses. Consumer hunger for choice extends to track choice in on-demand services, and station choice in streaming broadcasts. Other responses, such as "Available on device" (44 percent agreement) and "More convenient than a regular radio," (27 percent agreement) seem pointed at lifestyle customization.
Car and home remain staunch broadcast strongholds, according to Edison results. In both environments,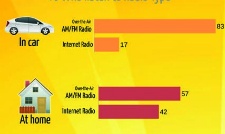 Internet radio is meaningfully present, but running second. The disparity in cars (83% broadcast; 17% Internet) probably indicates the complexity and non-standardization which impede adoption of online audio — a recurring theme in "connected car" sessions at last week's RAIN Summit and Radio Show in Orlando. The delay in solving dashboard fragmentation gives broadcast radio a window of opportunity to develop distribution strategies on digital platforms.
Perhaps the most interesting aspect of the research is an implied expansion of listening hours as IP-delivered solutions insert themselves into formerly unoccupied contexts. From the press release: "The total time spent with audio is clearly expanding as people are now enjoying more audio from more devices in more places." To whatever extent this premise proves out, it could provide a salve to AM/FM operators who feel threatened by the digital tidal wave.
Yet, the study's main bullet points (see this infographic) do indicate that the shape of listening growth, and listening recession, imply upside for the Internet and downside for broadcast. Sixty-seven percent of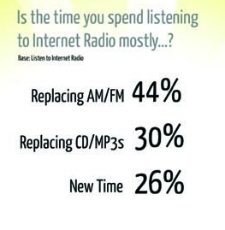 respondents listen to more Internet radio than one year previous, but only 23 percent say the same about AM/FM. On the flip side, only six percent listen to less Internet, and three times that many listen to less AM/FM. (More than half of those surveyed listen to the same amount of broadcast radio year-over-year.)
The "listening expansion" theory is borne out by 26 percent of responses indicating that Internet radio listening transpires in "new time" previously spent without audio. Worth noting also, though, that 44 percent said that online audio replaced AM/FM listening to some extent. The upshot seems to include both realities: New listening time is being created, and some amount of AM/FM erosion is also happening.