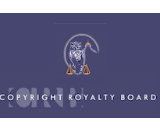 The Copyright Royalty Board has issued its cost of living adjustments for royalty rates in 2018. The new rate for ad-supported, non-subscription music streaming services in 2018 is $0.0018. Paid subscription services will pay $0.0023 per performance. The previous rates were $0.0017 for ad-supported and $0.0022 for subscription. Noncommercial webcasters will pay an annual rate of $500 for each channel or station and $0.0018 per performance for all digital audio transmissions exceeding 159,140 ATH in a month on a channel or station.
This adjustment is an early offering from the government group going into the final weeks of 2017. The CRB is still slated to release its official rates for interactive streaming's mechanical royalty rates in the 2018-2022 time period. Over the course of the year, several parties from the industry have made their cases for how they want to see royalties structured, including Apple and the NMPA.
CRB's rate decisions have a massive effect on the finances for digital and online music services. One of last year's biggest industry stories was the fallout from the CRB's webcaster rate ruling in December 2015.