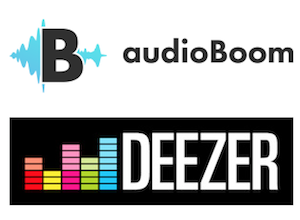 audioBoom and Deezer have joined forces in a new podcast-focused deal. Through the new agreement, audioBoom podcasters can reach the Deezer audience of 12 million international listeners for their shows. Deezer will have nearly 230 audioBoom shows in English and Spanish added to its burgeoning podcast division, and more could be coming.
"The current number of shows were selected by Deezer," audioBoom SVP International Operations and Content Partnerships Ruth Fitzsimons told RAIN News. "Like many of these partnerships, the distribution platform in question usually tells us what they're looking for first and we make suggestions based on their stated interests but also based on what shows we know have global audiences. This process will likely evolve as the relationship matures."
Deezer's interest in podcasts has been a long play. It acquired podcasting platform Stitcher in October 2014, making it one of the earliest music streaming services to integrate talk content and other audio programming. Even though Deezer sold Stitcher to Scripps in June 2016, this new partnership shows that podcasting remains a valuable source of content for the company.
"In addition to music, we believe in providing the best ultimate lean-back audio experience for our listeners, said Chris Baughen, VP content and productions at Deezer. "Thus, we are excited that our users around the world will now have access to a wider, more diverse range of content, thanks to our partnership with audioBoom."
The shows included in this deal include more than 37 podcasts about sports. That's a good match as Deezer has been developing ties in that field, most recently signing on as the exclusive music streaming partner for the Manchester Uniter football club (soccer for our stateside readers).