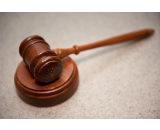 A group of streaming services is facing a new patent challenge, the latest in a long line of legal attacks related to vague claims for intellectual property around audio technology.
Post Media Systems has filed separate lawsuits against Apple Music, Pandora/Sirius XM, and Google in Illinois. The suit claims that these music platforms violated patents held by software developer Alan Bartholomew related to the transfer of data and media playback over networks.
Bartholomew appears to have contacted Post Media to assist in the case. The company previously sued Spotify and iHeartMedia with similarly vague technology patents in 2016.
This court circus is a regular occurence in the audio industry. The most notable case was the patent troll Personal Audio, which managed to land several settlements with podcasting companies until the Electronic Frontier Foundation helped to invalidate the patent in question.