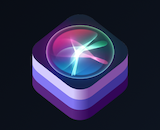 Spotify and Apple are familiar with being rivals as both companies work to build their bases as top audio streaming services. But the latest development indicates that the businesses might also learn to work together. The Information reported that Apple and Spotify are in talks to add support for Siri voice controls into Spotify's service.
Apple typically operates as a closed system, and its voice and smart speaker efforts are no different. Siri normally defaults to Apple's own software programs, but changes coming in the upcoming operating system updates would let other apps be accessed through the voice assistant. Spotify still can't be chosen as the default for Siri actions, but it could be directly requested if the current talks progress.
Spotify has been one of the critics arguing that Apple's closed system approach is anti-competitive. The companies have been at odds over Apple's policies regarding cuts from subscriptions paid through its App Store for months.