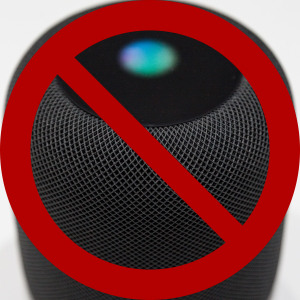 The news that Apple has withdrawn its timetable to launch the HomePod smart speaker this year is a final buttoning down of the holiday lineup of smart speakers, as we enter Black Friday week.
Apple's stumble is damaging in its quest to enter this market, as the company opts out of what could be a pivotal consumer adoption season for voice-controlled audio devices. The broken promise of a Q4 launch is certainly disappointing to Apple loyalists who are deep into the ecosystem. More potentially devastating, Apple is missing the boat for a second time, having already dropped behind Amazon and Google in the smart speaker category.
Amazon's line of Alexa-powered devices is now in its second generation, with a suite of gadgets at different price points and an array of differentiated features. Alexa is the clear market leader, according to every piece of research we have seen. Google, a hard-charging #2, has also iterated its Google Home products. During the World Series a few weeks ago, in the streaming video produced by FOX and MLB, commercial breaks between innings were absolutely dominated by Alexa and Google Home commercials. Those devices were essentially the presenting sponsors of the stream, where viewership probably skewed to the tech-adopting crowd of all ages. By the end of the first game, those two brands were pounding in the viewer's brain.
In RAIN Summit Austin, Edison Research President Larry Rosin noted that, in his assessment, the quickly growing smart speaker segment would receive a powerful acceleration as holiday gift-giving brings in a horde of new users. It is easy to also speculate that existing users will double down on the voice-controlled audio experience by giving and getting second and third devices.
In an investors.com article about a predicted spike in smart speakers sales, David Watkins from Strategy Analytics said, "Consumers who are looking to buy a smart speaker this coming holiday season will have a wide range of form factors, prices and feature sets to choose from." That is the boat Apple is missing.
Is is stunning that Apple has dropped out of this holiday cycle — and, at the same time, understandable. Last week Sonos launched the Sonos One, and Alexa-enhanced speaker which promises the famous Sonos audio quality with voice control from Alexa. Smart move by Sonos to jab into the market with the best-sounding voice-controlled speaker, pivoting from its legacy business of app-controlled WiFi speakers. At the same time, Sonos cuts Apple out of its positioning as a high-end alternative to Amazon and Google devices. The Sonos One is priced at $199 (already discounted to $179 for Black Friday), while Apple planned to price the HomePod at an eye-popping $349.
Upshot? Apple's consumer proposition has been invalidated, it has no position in the category, and it has dropped out.
Apple's curt statement ("We need a little more time before it's ready for our customers") is also an understandable fuzz of white noise. With the HomePod has been squeezed out, the question now is what Apple can do to regain some kind of attractive differentiation in Q1. By then, a presumably significant portion of the addressable market will be settling in with new devices, building relationships with Alexa and Google Assistant (and even Microsoft Cortana).