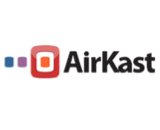 AirKast worked with Microsoft to create skills for the tech giant's Cortana voice-controlled assistant on the Harman Kardon Invoke speaker. The announcement comes from Microsoft, which is attempting to wedge its voice-control intelligence (Cortana) into the market alongside Amazon Alexa and Google Assistant.
Invoke is one of the first smart speakers to feature Cortana as the primary AI platform, and it supports first-party integrations with Spotify, iHeartRadio, and TuneIn. AirKast is providing skills for several radio outlets, including CBS News Radio. AirKast, whose legacy business includes building mobile apps for radio stations, has been striking deals for smart speaker "skills" — spoken invocations that play radio stations in the new smart devices, and in some cases create interactive experiences.
This is a three-point deal: Microsoft makes the artificial intelligence; Harmon Kardon makes the speaker, and AirKast makes the skills which bridge radio into the experience.
"We are just getting started, and wanted to show the world what is possible with Cortana and IoT," AirKast CEO Larry Leung said. "We at AirKast are thrilled about the engagement so far and its potential to further advance our customers' presence; it's just the beginning."