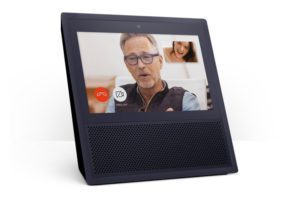 Amazon's voice-activated Alexa operating system, the leading voice assistance platform, introduced a new product today: the Echo Show. Echo Show joins the original Echo smart speaker, Echo Dot miniature device, and Echo Look style assistant. The new product will be available starting June 28; Amazon is characteristically taking pre-orders at $230 (or two for $350).
Echo Show is distinguished by its flat front face that features a seven-inch screen, beneath which is a speaker grille shielding Dolby-powered speakers. Presumably, Echo Show will sound a good deal better than the original Echo. The screen is touch-sensitive — though naturally the device will mainly be controlled by voice.
The Echo Show brain is the same Alexa cloud-residing intelligence as in the other Amazon devices, and it gains skill identically in them all over time. So, Echo Show can control audio just the same as with Echo and Dot. (See our review here.)
The big feature addition is video calls. This will work most fluidly to other Echo Show owners, but anyone can participate by using the Amazon Alexa app, which can be downloaded to any smartphone. (For device owners, that app is a sort of sidecar through which you make settings and review usage history.)
The New York Times quotes Dave Limp, Amazon's senior vice president for devices, referring to the Alexa ecosystem as "ambient computing" — an interesting phrase which might bolster the  perception (and reality) of Amazon's first-mover status and leadership in the field of smart speakers. "It's very different from traditional computing as we've known it for the last three decades." Perhaps an overreach … but perhaps not.
Amazon is selling the concept with a five-minute video staging how families can use Echo Show to (almost) be in each other's houses and activities in real-time. The examples certainly represent an evolutionary leap ahead of traditional grandma connectors — email, Facebook, and Apple Facetime. Amazon is portraying frictionless ease of use, and extending that from communication with people to control of smart home devices such as lights. (The original Echo also controls smart lights, thermostats, and garage doors.)
As Amazon surges ahead with devices that make lifestyle changes, the importance of audio control seems (in our opinion) to fade as a promoted feature. Amazon has long used a "good enough" strategy to its advantage, especially with its music service which started as a drastically stripped-down version of an on-demand platform. Prime Music grew up eventually into an interactive service with a normal-sized catalog and standard features, but nothing exceptional. As we have noted here on RAIN News, interactive control of music through Alexa is rudimentary — aching for skill development spearheaded either by Amazon or the major music services.
The impact of Echo Show might be that it brings new (possibly older) early adopters to voice-controlled devices, expanding the usage footprint and accelerating the category. This whole scene remains a shining opportunity for traditional radio, as we have noted before — even more if Amazon skews its demo to older users who spend the most time with AM/FM.
---