adStream is a journal of ad-stalking and interesting commercial sightings in online audio services.
---

In a recent RAIN interview with Pandora SVP Heidi Browning, much of the discussion focused on Promoted Stations, an important part of Pandora's native advertising effort. Promoted Stations are sponsored playlists branded by advertisers, and co-created with Pandora's curation experts.
The program launched in May with several advertising partners, but the sponsored stations are difficult to find. Erika White, Pandora's Director of Corporate Communications, told us about a module which would promote the Promoted Stations (sounds logical) appears in 10 percent of user accounts. Not any of ours, we grumpily note. (If you know of a sponsor, you can find its playlist by searching for the brand, e.g. Taco Bell or Bacardi. Most people would not naturally use Pandora like that.)
So, we've been on the prowl for advertisers which promote their Promoted Stations with additional media buys on Pandora (which might be a reason for Pandora to keep things as they are). We finally struck gold (when it comes to ad-stalking we are easily enriched) when our listening was interrupted by a video ad for a new TV series called MANH(A)TTAN. The interstitial video was followed by a full-page takeover of the web interface that included a selector for three sponsored playlists. Eureka!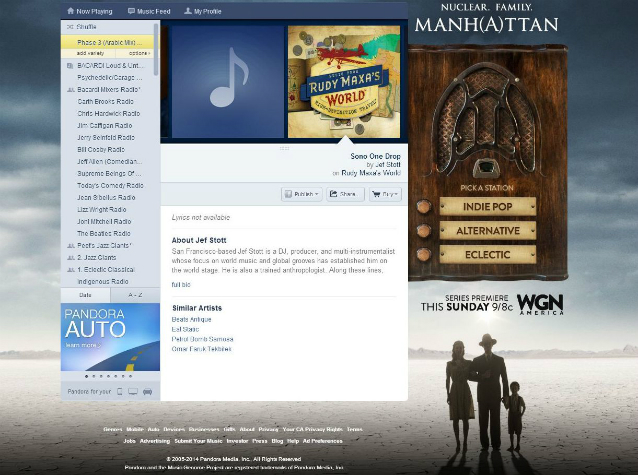 We chose the "Eclectic" station, and were rewarded with a diverse, off-the-beaten-path (at least, our beaten path) and pleasing music discovery experience. We heard Sigur Ros, Balmorhea, JJ Grey & Mofro, Three Legged Fox, Jake Bugg, Angus and Julia Stone, and some artists we did know (Zero 7 and Ray LaMontagne). We were unable to discern an intentional connection between the song choices and the TV show (which chronicles the development of the atom bomb through the viewpoint of a family), except for an overriding desultory mood and a couple of implicative titles ("On Fire" and "Paper Aeroplane").
We'll remain on the hunt for other Promoted Stations — wishing, all the while, that Pandora made them easier to find.