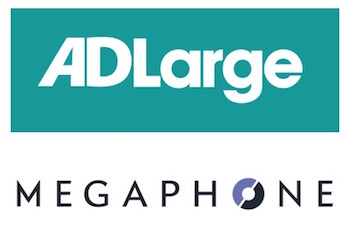 AdLarge Media has entered a partnership with Megaphone, the show host and ad-serving arm of podcasting company Panoply. AdLarge, an independent audio advertising sales company, joins BuzzFeed, WBUR, and Gimlet Media on the roster of Megaphone partners.
"We listened to our advertisers and podcast partners, identified their needs, and set out to find the hosting and ad platform with the most powerful solutions," Cathy Csukas, co-founder and co-CEO of AdLarge Media, said. "Megaphone's leading-edge technology made them the clear choice. Megaphone has revolutionized podcast publishing and ad buying."
Megaphone offers real-time dynamic ad insertion technology to podcasts. Its feature set includes real-time performance metrics, ad tracking, geo-targeting, source-listening recognition, and an embeddable player. Panoply launched the podcast CMS and ad platform in January 2016. AdLarge has been migrating its podcast portfolio to Megaphone's systems since November.
"AdLarge has a 30,000-foot view of the podcast industry, which is a vantage point that allows them to think long-term about solutions," Panoply Chief Technology Officer Jason Cox said. "That perspective makes them an ideal partner for Megaphone, and AdLarge's insights will help inform new and innovative features to meet the constantly growing needs of both podcasters and advertisers."