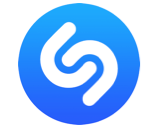 Shazam's director of EU partnerships, Jon Davies, shared some statistics about the app at the FastForward conference in Amsterdam. The audio identification is generating 30 million clicks a month to music streaming services such as Spotify or Apple Music. That's in addition to sparking 400,000 daily song downloads from digital marketplaces like iTunes.
"More often than not you'll see tracks trend on Shazam before they trend on Spotify, before they trend on any charts," he said.
Davies also said that the company is seeing success from its integration with social media network Snapchat, although he didn't disclose many details. "Numbers, I can't say too much," he said. "But it's been huge for us. Snapchat have got huge growth at the moment, and it's great for us to be able to embed our tech in an app like that."
Things have been looking good for Shazam lately. In September, it announced 1 billion downloads of its mobile app and that it had posted a profit. The company is also exploring other avenues beyond its core offering, such as a partnership with several broadcast groups to create an audio measurement solution. It'll also be expanding from smartphones to televisions as the subject of an upcoming game show.