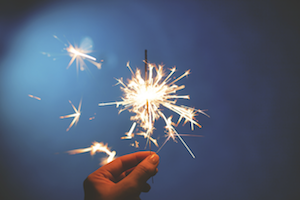 As 2016 crawls to a close and 2017 emerges on the horizon, it's time for that most time-honored of traditions: the year in review. Music companies of all stripes have released their assessments of top performers from the past twelve months. Here's a collection of the high points from 2016.
Pandora: The 100 most-thumbed songs on Pandora showed that it was a good year for Drake; he had 14 songs on the list. Future, Rihanna, Fetty Wap, and Justin Bieber were other notable artists in this round-up.
Spotify: Drake topped Spotify's round-up as well, taking home the most-streamed artist honors. The rest of the top five on Spotify this year were Justin Bieber, Rihanna, Twenty One Pilots, and Kanye West. And as you'd expect from this data powerhouse, Spotify also shared some more unusual accolades based on listener habits. For instance, did you know witch house was an emerging genre this year? (For that matter, had you even heard of witch house?)
Google Play: Since Google Play is a more comprehensive source of entertainment for the Google ecosystem, there's only a little bit of music insight here. But the names on the top songs from its global best-of list will look familiar. Drake lost his edge here, with Twenty One Pilots' "Stressed Out" taking the title of most popular song.
Apple: Apple's store also weighed in on the year's trends. Drake's back on top for both album and single with Views and "One Dance." Rihanna's ANTI and Frank Ocean's Blonde were also top album successes, and Adele's 25 continued to be a big mover among listeners.
SoundExchange: SoundExchange's list covered the most-streamed tracks for the year ending Sept. 30, so its metrics show a different sliver than the other platforms. Adele's Hello took the top spot, while The Weeknd got three tracks in the top 20. Unsurprisingly, though, Drake once again pulled into the lead as the most-streamed artist.
Bridge Ratings: Bridge Ratings published its own list of the most-streamed tracks, although it didn't give any details about how the rankings were calculated. This list is the most unique, with Rihanna's "Work" at No. 1 and Desiigner's "Panda" at No. 2. Of course, a list wouldn't be complete without Drake, and his "One Dance" ranked third.
LyricFind: And for a final take on the year's most popular music, LyricFind shared its top lyrics searches. Justin Bieber's "Love Yourself" was the most-displayed, followed by Adele's "Hello" and Rihanna's "Work." (Most shockingly, there is nary a track by Drake in this top ten list.)