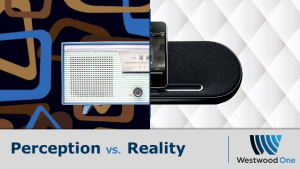 In addition to the disruptive challenges faced by traditional radio as streaming continues to grow, there might be a perceptual challenge for the industry's relationship with advertisers. That's what Westwood One sought to reveal in a commissioned study from research company Advertiser Perceptions, the results of which can be interpreted to indicate that radio has greater consumer reach than buyers perceive.
The study results were combined with existing Nielsen and Edison research to paint a picture of radio's supremacy over streaming in audience reach. Cumulus CMO Pierre Bouvard packaged the combined presentation in a SlideShare display called Perception and Reality (see it here).
"The U.S. radio industry wanted to understand the perceived and actual audience size of AM/FM and streaming services," Bouvard wrote in a blog post. "We turned to the leaders in advertiser sentiment (Advertiser Perceptions), online audio usage (Edison Research's "Share of Ear" Study), and media measurement (Nielsen) to conduct a first-of-a-kind study." Bouvard framed his summary as a challenge to test your knowledge of questions about radio's reach.
The key metric cited by Pierre Bouvard comes from the Advertiser Perception study: advertisers believe that AM/FM radio has a reach covering 64% of Americans. Bouvard contrasts this estimate from buyers with Nielsen's recent statistic of a 93% weekly reach for the medium. (It is unclear whether advertisers were asked specifically to guess radio's daily reach or its weekly reach.) Bouvard quotes Cumulus CEO Lew Dickey as saying, "Advertisers and agencies drastically underestimate the reach of AM/FM radio."
Pierre Bouvard's blog post also notes strong reach of radio to Millennial listeners (again, 93%). It's worth noting, as RAIN News did in its coverage of Nielsen's Q1 report, that the TSL (Time Spent Listening) metric skews shorter and shorter as the measured demo groups get younger.
The Advertiser Perceptions survey gets granular by measuring buyers' perceived reach of Pandora and Spotify. In the first case, advertiser perception is 27% of Americans. In contrast, Bouvard cites the quarterly Share of Ear study from Edison Research, noting Pandora's daily reach at 15%. Note, however, that advertisers' perceptions of a 27% reach for Pandora correspond precisely to the weekly reach that Edison Research found in its annual "Infinite Dial" study earlier this year.
"It's on us" to tell a good story about broadcast radio reach, Bouvard concludes — and that's good advice no matter how statistics are refracted through different measurement lenses.