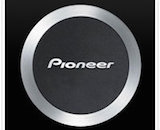 Pioneer Electronics has launched a new collection of after-market in-car entertainment systems that feature smartphone connections. The lineup offers Bluetooth wireless systems for streaming music from a smartphone, and some models allow two devices to have Bluetooth connections at once. The models also have USB connectivity options.
The range also includes some platform-specific streaming features. All of the Pioneer models have a Pandora station creation tool that can seed new channels with one button while a smartphone has a wired connection to the system. The DEH-X3800S model is compatible with the SXV300 SiriusXM Vehicle Connect Tuner, which offers access to the satellite radio company's programming. Lastly, the DEH-X5800HD model has HD radio connectivity built in.
The new lineup clearly accommodates, and even emphasizes, smartphone operation. The units which can handle dashboard operation of both Apple and Android devices are more flexible than auto models which specialize in one or the other through factory installation of Apple Carplay or Android Auto. All non-broadcast listening in the car represents a gradually developing challenge to over-the-air radio. The new Pioneer line is partly targeted to smartphone listeners who are not (yet) in the market for a new car with built-in digital listening.