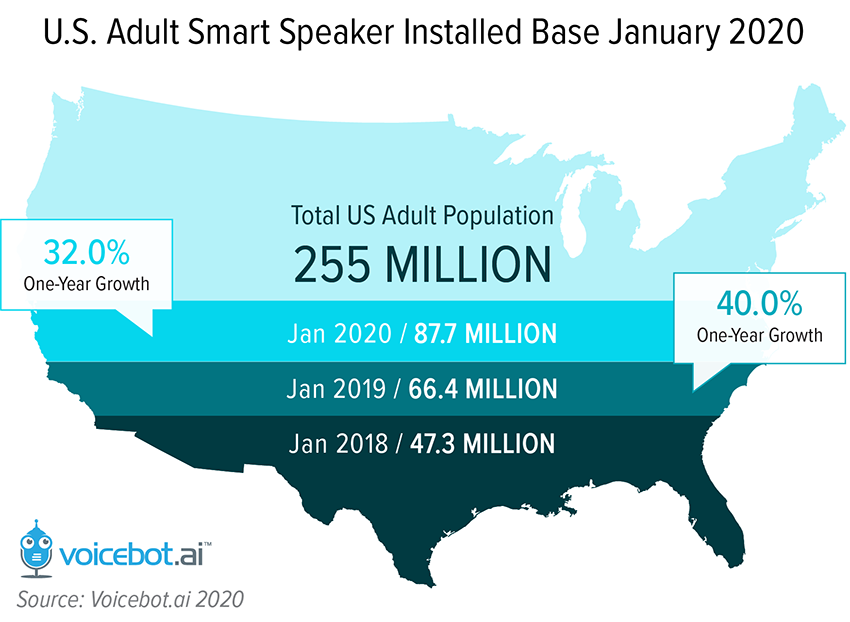 Voicebot.ai has released its latest report on U.S. smart speaker adoption. According to its most recent surveys, the U.S. smart speaker install base has grown 32% to 87.7 million adults. The result marks an adoption rate of 34.4%, which has slowed from 40% in 2018.
Amazon is still the market leader, but its share of the U.S. market dropped to 53% in January 2020. That's down from 61.1% in the same month of 2019 and 71.9% in 2018. As Amazon's dominance has waned, Google's has been growing. The company's share has grown from 18.4% in January 2018 to 30.9% in 2020. Sonos was the other notable growth story, edging up its share from 2.2% in January 2019 to 4.7% this January. Apple's portion held steady over the past year.
The report found that listening to streaming music is still the leading activity for smart speaker owners. A large majority of 88.7% have ever tried it, while 73.6% do so monthly and 39.8% listen daily. While streaming music was the top activity, the survey revealed a broad range of uses for smart speakers. Radio listening has a 19% share of daily users, and while podcasting and other talk formats had 11.4% daily use.
The survey also revealed that discovery of voice apps is still a challenge for users. More than half (53%) said they don't discover voice apps. That rate is down for two consecutive years. The only areas of third-party voice app discovery were social media and advertising, although both only saw 1% increases.