Spotify's first quarter of 2020 included positive results on many important metrics, even as the COVID-19 pandemic took hold around the world. The company is even remaining positive about the rest of the year, not changing its outlook for most key performance indicators, although it acknowledged the uncertainty ahead. "Overall, despite some changes in listening patterns, we are encouraged with the trends we are seeing, and continue to be optimistic about the underlying growth fundamentals of the business," the shareholder letter read.
Spotify saw revenue grow 22% on-year to nearly €1.85 billion for the period. The figure included €1.7 billion in premium revenue, up 23% from the first quarter of 2019, and €148 million in ad-supported revenue. The company narrowed its operating loss from €47 million in Q1 2019 to €17 million in Q1 2020.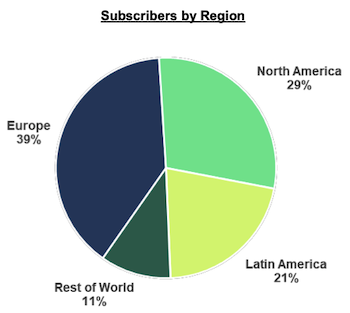 Total monthly active users for Spotify reached 286 million for the period, growing 31% from the first quarter of 2019. Total premium subscribers grew 31% to 130 million, and ad-supported users increased 32% to 163 million. Europe remains Spotify's largest market, with 35% of its total monthly active users and 39% of its subscribers. Latin America is seeing slow but steady growth, responsible for 22% of the total monthly users. The region inched up in its share of subscribers to 22%.
The company has made major investments in podcast talent and content over the past year. Nineteen percent of Spotify's monthly active users engage with podcasts, up from 16% in the final quarter of 2019. It said consumption has grown at triple digital rates year-over-year. During the first quarter, Spotify launched 78 Originals & Exclusives. It now has more than 1 million podcasts available on its platform, including nearly two-thirds powered by Anchor.