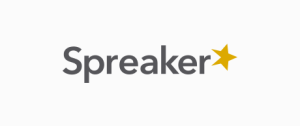 Podcast technology platform Spreaker sent us an announcement of a new customer layer called the Spreaker Publisher Plan. That might sound generic, but is actually a precise layer of service that fits between the platform's open sign-up service and its enterprise hosting capability which was launched last year.
The Publisher Plan seeks to attract the substantial segment of podcast creation which includes an array of shows that has not (yet) scaled to a dimension you'd think of as "enterprise." While the Enterprise plan is designed to meet the production, distribution and measurement needs of high-volume audio publishers, and is a partnership that offers significant customization, the new Publisher Plan includes open enrollment with quick on-ramping.
It's a pay-as-you-go system with some flexibility (e.g. exceeding certain limits is covered by incremental add-on pricing). Spreaker also emphasizes that Publisher Plan customers can become Enterprise customers as more collaborative planning becomes desirable.
As describe on this product page, the Publisher Plan includes 60,000 downloads in the $120 monthly price. Clients get a robust slate of features for each podcast in the publisher group — one-click distribution, distinct RSS feeds, analytics, monetization via ad revenue sharing and dynamic ad insertion, and more. (Spreaker metrics are IAB Tech Lab certified.) The product page also carefully describes permission layers that allow collaboration across podcasts, and administrative access to the podcast network.
The entire product seems to be targeting an increasingly thriving layer of indie podcast networks. These energetic ventures often have somewhere between three and 20 shows, and are building entrepreneurial content businesses that can be lost in the glare of the big networks which soak up much of  podcast publicity.