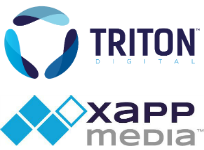 Triton Digital announced today that it will represent XAPP ad inventory in JAX, the mobile advertising service created in january by XAPPmedia and jācapps, the Jacobs Media app development company.
JAX is a premium advertising service for the mobile audience. The alliance integrated the XAPP Interactive Audio Ad Service into the jācapps mobile platform.
All this pivots on XAPP technology called XAPP Ads, a creative platform for mobile advertising which delivers voice-activated audio commercials. When hearing a XAPP Ad, the listener may perform a call to action, such as opting into an email delivery, making a phone call, or downloading an app. The conceptual heart of XAPP Ads is the ultramobile consumer, a XAPP coinage referring to mobile streamers who don't look at their screens. Assuming that scenario as a common use case, XAPP ads enable marketers to generate direct response leads without requiring the listener to look at or touch the screen.
"This technology allows the user to interact with an ad without having to tap the screen," said Mike Reznik, EVP of Advertising Revenue at Triton Digital, who spoke with RAIN News by phone. "Marketers like that extra level of engagement."
Reznik noted that Triton has perceived a need among advertisers for a solution that would increase engagement with audio ads from mobile listeners. "We have been in the marketplace with the concept of XAPP ads for a while," he said. "There is a lot of demand from agencies and marketers."
Lisa Namerow, SVP of Business Development and Publisher Relations at XAPPmedia, agreed that Triton will bring existing demand into the JAX platform.
"Triton has been on the street, taking the temperature of the market regarding the interest level in XAPP," Namerow told RAIN News. "They've gotten a great response. We're thrilled to be aligned with a partner who is passionate about the product.
The JAX platform enables audio publishers to monetize their mobile inventory using XAPP Ads. It's a turnkey solution, Lisa Namerow told us, requiring little or no effort from the audio provider. "Everything is handled for the publishing partner. Development — taken care of. Technology — taken care of. Sales — taken care of."
JAX is naturally available to jācapps users, over 300 apps, most of which belong to radio stations. Non-jācapps mobile apps can get on the platform, too. "It's high ROI, low lift," said Namerow.