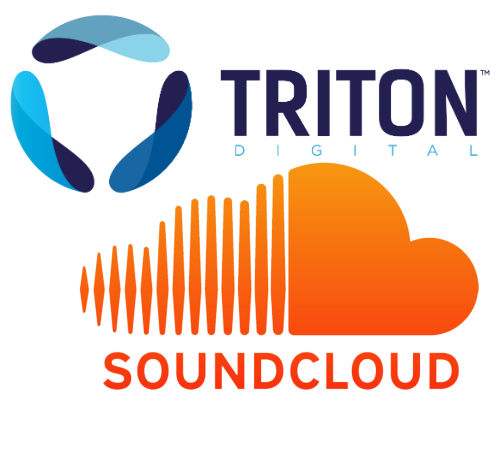 This morning Triton Digital is announcing a significant growth of its relationship with SoundCloud. SoundCloud, the giant global listening platform based in Berlin, has chosen Triton's a2x programmatic audio platform for its U.S. inventory. The deal expands the tie-up of these two companies from earlier agreements in Australia and Canada.
Millennial and Gen Z listeners make up 75% of SoundCloud's audience, according to today's announcement. Estimates of SoundCloud's total listenership are usually in the 175-million range, more than either Pandora or Spotify. The music library is different too, encompassing original uploads from professional and amateur music producers in addition to major-label content. Soundcloud is sometimes described as the YouTube of audio.
"The 2016 Infinite Dial Study by Edison Research found that more than 155 million Americans ages 12+ listen to digital audio in a given month," said John Rosso, President of Market Development at Triton Digital. "With its impressive reach and ability to target messages on the listener level, audio is quickly becoming an essential component of advertising strategies both in the US and beyond as it is an incredibly powerful and meaningful way to connect with listeners."
Peter Diamond, SoundCloud's Head of Brand Partnerships, North America, said: "Triton's technology makes it easy for advertisers in the U.S. to access prime SoundCloud ad inventory in an automated fashion to connect with our unique, highly engaged audience."
Soundcloud has been the subject of recent takeover rumors, first involving Twitter, and more recently Google.
Triton Digital has been providing technology to the online audio ecosystem since 2006, marketing its products as "the technical backbone for the digital audio marketplace."
---