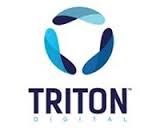 Triton Digital has secured another partnership, this time from a radio company in South America. Cadena 3 Argentina, the country's largest radio network, has signed on to use Triton tools for managing, measuring, and monetizing its digital audio content. The company will also make its audio ad inventory available on Triton's a2x programatic exchange.
"With their end-to-end technology stack and unparalleled expertise in the digital audio space, Triton is a valued partner that we are proud to work with," said Axel Maldonado, IT Manager at Cadena 3 Argentina. "As digital media continues to grow at an incredible pace, we are thrilled to leverage Triton's technology to deliver a world-class streaming experience for our listeners and the best marketing opportunities for our advertisers."
Earlier this week, Triton announced that Zemeho has also joined its a2x programmatic advertising exchange and NRG Media will begin using its Audience Management Platform.