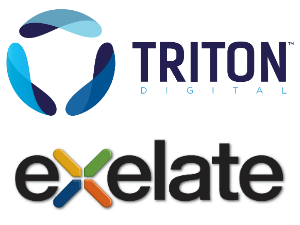 Triton Digital today announced an exclusive partnership with eXelate to develop the first Data Management Platform (DMP) dedicated to streaming audio. The alliance matches Triton's cross-device audience profiling ability with eXelate's data cloud infrastructure and audience segmenting across marketing channels.
In plainer English, the streaming audio industry is getting its first dedicated Big Data-crunching platform. DMPs turn vast volumes of data into smart information about listener attributes. That smart data turns into smart ad impressions purchased by advertisers and agencies on programmatic buying platforms. According to the press release "The result will be ads that are targeted and optimized across channels and devices."
One of the key values in programmatic advertising, for both sellers (music services and their reps) and buyers (advertisers and their reps) is cross-channel campaign planning. A factor that potentially holds back streaming audio from participating in cross-channel campaigns is lack of audience data which is up to speed with other channels like web display and video. This partnership is targeted at solving that.
"Beginning today, digital audio can garner a larger share of the market by attracting a piece of the larger multi-channel programmatic budget," said Mike Agovino, COO of Triton Digital.
The ground-breaking aspect of this new product is framed within the programmatic industry generally, in addition to benefitting the streaming audio ecosystem specifically. "Triton and eXelate are breaking totally new ground within the programmatic audio advertising industry with the launch of the first audio-focused DMP," said Mark Zagorski, CEO, eXelate. "This partnership is crucial for ad buyers and marketers, as it will empower them to make smarter programmatic audio ad buys and execute cross-device and multi-channel campaigns that include mobile, audio, video, and display."