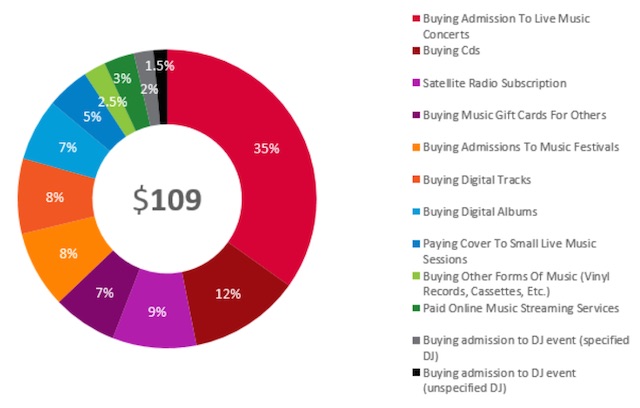 New data from Nielsen highlighted the massive shift to online listening. The Music 360 2014 study found that 93% of Americans listen to audio more than 25 hours a week. Three-quarters actively listen to music, and many do so while at work, doing chores, and in the car.
The number of people who press play throughout on a typical day isn't too surprising, but the meat of the new report is in how convincingly the listeners have shifted online. In an average week, 67% of music fans are using a streaming service. Over the course of 2014, U.S. listeners streamed 164 billion on-demand tracks, in both audio and video. The pace of streaming growth has been strong, with the week ending Nov. 9 hitting the 4 billion streams milestone for the first time. While the chart above indicates only 3% of consumer money goes to music subscription, that does not factor vast amounts of listening to free, ad-supported Internet radio streams, or the revenue such listening puts in the ecosystem.
The 360 report also reflected data from Nielsen's previously-released 2014 year-in-review, which showed big drops in most physical sales formats. However, this data broke out some interesting insights about Taylor Swift's 1989 and the soundtrack to Disney's Frozen, which combined accounted for almost half of the total top 10 U.S. album sales.