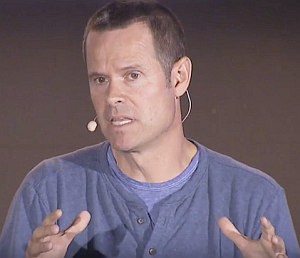 In a keynote interview at MIDEM over the weekend, Pandora CEO Tim Westergren talked to Daniel Glass, Founder and President of Glassnote Entertainment Group. The conversation touched on Pandora's plan to build an on-demand service to complement its market-leading streaming radio platform, and the company's support of the music industry. Along the way, Westergren reiterated his company's explicit mission to replace broadcast radio, and why that's a good thing for listeners and musicians.
Pandora vs. Broadcast
"If I were an artist I would push for the migration of listening from broadcast to the web." –Tim Westergren, CEO and Founder, Pandora
Westergren's most impassioned talking points were about Pandora's founding mission to assist musicians (Westergren spent his 20s playing on the road with  rock bands), the extent to which Pandora supports the music industry, and misunderstandings about royalty payments.
On that last point, Westergren explained something that often gets lost in musician advocacy which criticizes Pandora: The platform competes with radio, which doesn't pay performer royalties at all in the U.S. "Pandora is a radio product," he said. "It is replacing a medium — AM/FM radio, which does not compensate artists at all (in the U.S.)."
He noted that Pandora's increase in listening hours comes mostly from broadcast radio, and offered a calculation of what that shift in market share means to musicians. "Every one percent of market share that moves from broadcast radio to Pandora creates $60-million of annual revenue to the industry."
Westergren also reminded the audience that Pandora is a one-to-one medium, compared to terrestrial's one-to-many linear platform. So, a single stream's micropayment on Pandora would equate to over a thousand dollars in royalties at a top radio station, if radio paid performance royalties at all.
"Pandora is the music industry's ad sales team." –Tim Westergren
In the course of promoting his company's payments to the music industry, Tim Westergren divulges some numbers related to Pandora's structure: "We have 2,200 employees. About half of them do nothing but work on advertising selling. It's a massive engine with about 550 [direct] ad sales people. We're going to generate north of $600-million in revenue [to the music industry] this year, more than the entire broadcast radio business pays."
The On-Demand Service
There is a great deal of curiosity about the on-demand subscription music service Pandora plans to build this year. Time Westergren spoke of differentiating the product from existing competitors — beyond mere app design.
Different price points could be one way: "We will hopefully have multiple tiers — not just the $10 level, but something lower as well. There is some small segment of the population that will pay $120 a year. But we think there's a much bigger audience that will pay for something less, for mid-level features. That's our thesis."
At the same time, he said the basic freemium/subscription equation will remain unchanged: 30% lean-in on-demand subscribers, and 70% lean-back radio listeners. About 4-million of Pandora's 80-million monthly listeners (100-million quarterly listeners) pay $5/month to eliminate advertising in a plan that remains a lean-back experience.
The business rationale driving the on-demand vision is simple: Keep the lean-back listeners when they want to lean in. When Pandora users hear a song they love, and want to hear it again, they mostly go to YouTube, according to Tim Westergren. "We stream more hours of music every month than YouTube does," he observed, noting an average of 23 hours per month. So, the on-demand mission is to capture listening that Pandora now loses to YouTube.
"We stream more hours of music every month than YouTube does." –Tim Westergren
"We've decided that we want you all the time."