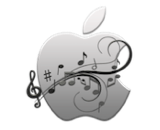 Apple CEO Tim Cook revealed official subscriber numbers for Apple Music at the Wall Street Journal technology conference. He shared that the streaming platform has more than 6.5 million subscribers, with another 8.5 million currently enrolled in free trials.
"To have over 15 million on there, and 6.5 million in the paid category, I'm really happy about it, and I think the runway here is really good," he said.
Those figures give Apple Music a combined 15 million people on board. We've been seeing hints at the conversion rates from free trials to paying customers in surveys from Jackdaw Research and Wristly. And of course, media outlets have been reporting projections based on their own insider sources since the platform arrived on the scene. But getting hard numbers from the horse's mouth is the best indicator of how Apple Music is faring in the real world of paying customers. Apple revealed that 11 million people had free trials as of August, and the fact that 8.5 million people are still in the pipeline indicates that Apple still has some influx of new members. Some percentage of those new members will convert and join the roster of paying customers.