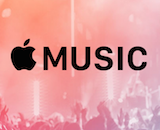 It's a new era for Apple Music. The streaming service's initial wave of three-month free trials has formally ended, and it will need to start building an audience of paying customers. Things may not be starting on the best foot for all of those listeners, though. RAIN News received a tip from a reader that Apple didn't give any heads up about the trial end before billing. For people who weren't keeping close tabs on their dates, that could have been an unexpected credit card charge.
That type of behavior – netting customers as lapsed free trials – isn't unusual for a subscription service, in or out of the music business. Many tech websites seem to have been banking on the idea that people might forget, as even in Apple Music's brief three-month lifespan, several have published explainers on how to cancel the trials and avoid that exact situation.
However, we did discover that Apple isn't being greedy about the people who meant to stop their subscriptions. A reporter from Quartz said that after receiving his November bill, he logged a support ticket and was able to get a refund. "I explained that I had forgotten to cancel the trial and they issued me a credit for the $9.99 I had been billed," he wrote. We have no confirmation whether this is going to become common practice for Apple, or whether it was a lucky exception for a member of the media.
In any case, the end of Apple's free trials is also the end of its grace period. Now it's in the deep end, and will be expected to swim alongside Pandora, Spotify, and other streaming services that already have audiences many millions strong. How will it keep up? SVP Eddy Cue spoke to the UK Evening Standard with optimism, but plenty of hedging. "We're pleased with the number of people who have tried," he said. "Everybody gets fixated on the short term but we're in this for the long haul." Reading between the lines, responses from Cue and Iovine to audience questions imply that the numbers might be lower than hoped, but still convey optimism that a quality service and Apple brand loyalty could mean long-term results.