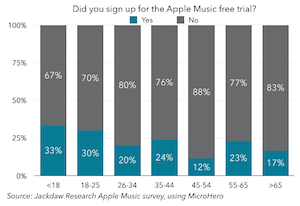 We got one glimpse at Apple Music subscribers thanks to Wristly, and today another peek comes from Jackdaw Research. The company surveyed 500 people about their use of the Apple streaming platform, meaning it's just a tiny snippet of the platform's total audience. But as with the small Wristly study, it still offers some insight into how Apple Music is performing in the field after its initial free trials lapsed.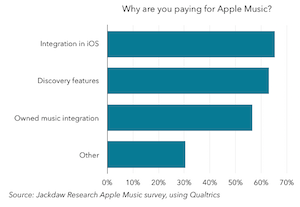 According to Jackdaw's findings, the free trial was most popular among younger listeners, with 33% of the respondents younger than 18 trying it. The age groups 35 and older topped out at 24% using the free trials and fell as low as 12%. However, those older users were more likely to stick with the free trials than their younger counterparts; only 38% of the under 35 group rolling into paid subscriptions compared with 67% in the respondents 35 and up.
In addition to the age data, the participants who were paid subscribers noted the features they most appreciated. Integration with iOS was the top element, followed by Apple Music's discovery features. The integration with users' owned music was less popular in third.
Jackdaw Research is a single-analyst firm headed by Jan Dawson. Dawson spent 13 years at Ovum before starting Jackdaw in 2013.