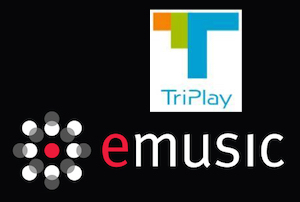 TriPlay has acquired eMusic for an undisclosed price. The deal will retain eMusic's executives and employees for a single company that will combine TriPlay's cloud services with eMusic's digital storefront. The joint business will see eMusic integrated into MyMusicCloud so that users can buy tunes and add them to online collections within a single interface. TriPlay claims the united music entity could be one of the biggest full-service digital music platforms in the world.
According to The New York Times, eMusic topped off at 400,000 subscribers, although that number was believed to have dropped recently. TriPlay CEO Tamir Kock said the combined company would have an audience "in the millions." He argued that even as streaming services have grown in popularity, there are listeners who want to directly own their music files. "The majority of the market still consumes music in a way that they buy it," he said.
The purchase also marks the end of a complicated chapter for eMusic. The company first made its name as an independent music store, then cycled through a phase with more major label cuts before going back to its original vision. It also experimented with different models for the online store, such as a subscription plan with credits rather than per-track dollar amounts and a flat rate for unlimited downloads.