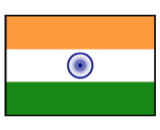 Two big developments emerged today that could have a sweeping impact on India's streaming music landscape.
First, after about a year of lead time, Amazon Prime Music has rolled out in India. Amazon has five label deals for the Indian market, including Sony Music. The streaming music service will be available to any Prime members as part of their membership. Prime access costs 999 rupees (~$15) per year.
Second, Tencent announced an investment round of $115 million in local streaming service Gaana. The money will go toward developing AI tools for better personalization and enhancing its subscription tier. Gaana recently reported 50 million monthly active users. Chinese conglomerate Tencent has been making investments in streaming services around the world, most recently in Spotify.
Streaming was responsible for about half of India's recorded music revenue in 2016. These investments from other major tech businesses from around the world could help to further expand the infrastructure for streaming in this market.