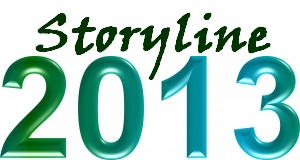 2013 saw the important signs of crowding in the online listening space. Of course, audio streaming was already crowded considering the many thousands of independent Internet radio stations and broadcast streams. The choices have felt infinite for many years. What marks 2013 is the introduction of music services by the three big technology companies (Google, Microsoft, and Apple), and the tectonic rumbling felt through the industry.
When there is reduction in some areas, there is expansion in others. 2013 saw saw feasts and famines.
If there was one music service that got served both sides of the coin in 2013, it was Rhapsody. In September Rhapsody administered the downsizing lash to its staff, and CEO Jon Irwin left the company. That would be enough to cast a shadow of doubt on the future of the venerable godfather of subscription music sites. The next earnings report, showing deepening losses, darkened the shadow.
But Rhapsody's autumn was eventful on the upside also. The service's mobile app introduced a series of new features, in a startling burst of optimistic product development. Some of those features merely brought Rhapsody to parity with its competitors, but were no less encouraging for that, and others (especially Track Match, a built-in Shazam-like function) were breakthrough in a field famous for copycat products. On the business side, Rhapsody partnered with giant telecom company Telefonica, instantly and dramatically expanding its audience in Europe and Latin America.
Competing subscription service Rdio had a mixed year also, with parallels to Rhapsody's 2013 destiny. CEO Drew Larner resigned in May, agreeing to stay on during the search for his replacement. That search took nearly six months — in December Anthony Bay was named chief executive of Rdio. He inherited a company that had been rocked, just a couple of weeks earlier, by a deep layoff cut. Rdio acknowledged the cost reduction, saying it was positioning itself for a long-term scaling effort. The first sign of expansion encouragingly came one week after Bay's appointment, when Rdio quietly announced growing its global footprint to over 50 countries, adding 22 new national markets. That near-doubling certain positions Rdio for the new year on an uplifting note.
On the private funding forefront, three music services obtained venture dollars. Songza received $4.7-million from a large alliance of investors including Amazon and William Morris Endeavor. In May, station aggregator TuneIn collected $25-million of new funding from four major investors, including Sequoia Capital and Google Ventures.
No service approached the charmed year that Spotify enjoyed in 2013. The high-flying listening service received a whopping single-source investment of $250-million from Technology Crossover Ventures, bringing Spotify's total funding to $538-million since 2008. Happy new year.
Reorgs and sunsets included Turntable.fm, which closed it group-listening rooms — its landmark feature. Shifting gears, Turntable.fm is building a concert streaming platform. AOL-owned Winamp (desktop player) and ShoutCast (Internet radio destination) were announced shutdowns … but are still inexplicably operating. Exfm, a unique music discovery environment, discontinued its service.