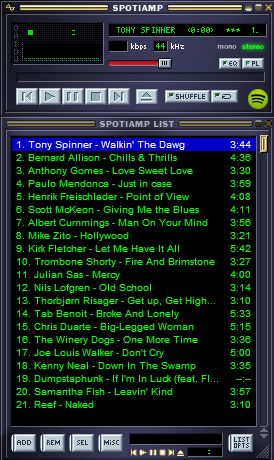 Spotify released an ironic homage to Winamp, prematurely anticipating its demise, which, if and when it comes, will be largely due to the rise of streaming services like Spotify.
Here's what's going on.
AOL announced that it was shutting down its Nullsoft products Winamp and ShoutCast. Winamp is a desktop/mobile app that plays locally stored music files. ShoutCast is a streaming-audio server that enables and hosts thousands of independent Internet radio stations. December 20 was the cutoff date, according to AOL. That was Friday.
Rumors abounded that Winamp and/or Spotify were on the market, and an imminent buyers was in talks, forestalling the shutdowns.
Today, the Winamp site is still up and Winamp downloads are still available (although not the paid Pro version).
Meanwhile, Spotify staged some PR cleverness by releasing a Windows desktop app that looks exactly like classic Winamp. It is infelicitously called Spotiamp. More an homage to Winamp than a replacement, Spotiamp lets you play your Spotify playlists. It works only for Spotify Premium subscribers.
The design mimicry is excellent, making Spotiamp confusing as anything if you're running Winamp on the same screen.
Spotiamp also enables ShoutCast server streaming. that doesn't mean you can listen to ShoutCast staions, but it does mean you can stream your Spotify playlists, viaSpotiamp, to any device (like a Sonos WiFi speaker) that recognizes the ShoutCast server. for as long as, you know, ShoutCast stays alive. Which it is, as of this post.
Despite its PR ploy, Spotiamp is actually a welcome little product. Used as a lightweight playback app when you don't want to load up the full Spotify desktop program, it works beautifully for basic listening, when you don't want to lean in to manage the lists.