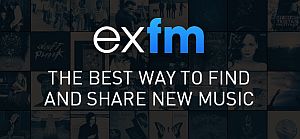 In what could presage a thinning herd in 2014, Exfm is discontinuing its core music service. The sadness of this, in our view, is not just disappointment for the site owners, but the inability of a unique service model to compete against homogenized global platforms.
Exfm started as a Chrome browser extension (the company's original name was Extension.fm) that scavenged websites for MP3 files, and allowed the user to upload those files to the cloud into a personal repository. Any service that facilitates music copying to the cloud is going to face legal questioning from copyright owners. Exfm acknowledges legal expenses in its shut-down note to users. Technology expenses also weighed into the decision, apparently, and the note cites the deeper pockets of large music subscription services.
Add Exfm to the start of a small-biz casualty list that includes the sharp change of direction at Turntable.fm, which recently announced the closing of its group-listening service. (Turntable.fm will continue operating with a recently-launched concert streaming feature.)
More (and bigger) players will feel increased pressure in 2014, when Deezer, Beats Music, and YouTube likely step into the listening space.