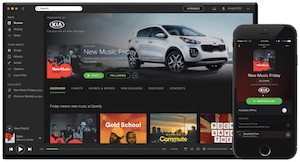 Spotify has debuted a new outlet for brands to get involved with the streaming company's popular playlists. Sponsored Playlist puts a brand's name on one of Spotify's curated playlists, with the sponsorship options designed to match marketing needs with a musical audience. For instance, Kia recently sponsored Spotify's New Music Friday list to promote a new car model. This marketing option is now available in the U.S. and in beta in the UK.
Spotify shared the steps of a sponsorship in the blog post announcing this tool. First it puts its music intel in brands' hands to find the right playlist to sponsor, then collaborates with the company to drive more streams during the promotion. Finally, the service will also have options to unlock in-playlist media and native branding, such as logo placement, ownership of the first ad break, and industry exclusivity.
The development carries considerable weight given the popularity of Spotify's playlisting features. The weekly personalized recommendations of the Discover Weekly program alone have attracted 40 million listeners and 5 billion tracks streamed. That's after less than a year as part of the streaming platform. More than have of the people who do tune in to their Discover Weekly updates listen to at least ten tracks a week and save at least one to their favorites.
That's just one particular feature. Spotify just announced that its full roster of in-house playlists generate more than 1 billion streams per week. The most popular of these playlists – such as Today's Top Hits, Rap Caviar, and Baila Reggaeton – can have audiences of millions listening to the curated programming.
"Streaming playlists are big business, and are even threatening to topple radio from its hit-making throne," said Chris Price, New Slang Media founder and consultant in his Listomania research project. Adding sponsorship options and other tools to playlists mean this already potent business tool will only become more valuable for Spotify and its marketing clients.