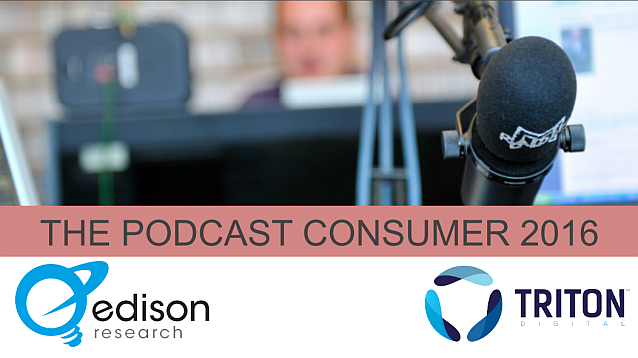 The Podcast Consumer, an annual research report from Edison Research and Triton Digital and released today, represents the 12th year of podcast research conducted by Edison. The podcast metrics revealed today come from the larger Infinite Dial project, an annual consumer survey of listening habits that started in 1998.
Some basic listening metrics which were featured in the Infinite Dial presentation in March start off the Podcast Consumer report. They show general podcast adoption rate among U.S. listeners 12 years and older. Thirty-six percent of consumers have listened to at least one podcast ever; that is an estimated 98-million people. Monthly listening has attracted 21% (57-million), and weekly listening is enjoyed by 13% of the population (35-million). Those are impressive numbers, with plenty of upside still to be realized.
Interestingly, the term "Podcasting" is recognized by over half the population (55%). There has become some punditry around the idea of changing the name (not really feasible from a practical view, even if advisable), but the strong recognition seems to say that the term "podcasting" is helping the medium.
In all these adoption metrics, there is a jump this year. "This is the year when we're seeing more than incremental gains" said Tom Webster, who hosted a webinar presentation of The Podcast Consumer. "It's superb news for the medium."
Podcast listener demographics are of interest to producers, networks, and advertisers. The Edison/Triton research has found that podcast listeners are more affluent and educated than the average benchmarks of the U.S. population. the average household income of podcast listeners is $63,000 compared to the American average of $53,000. Four-year and graduate-school education is present to a higher degree.
Tom Webster noted that these divergences show signs of narrowing as podcast listening widens in the population: "As the population begins podcasts more and more, the podcast consumer will resemble mainstream America more and more."
Mobile!
Podcasting is a mobile medium, as online radio is generally. Only 29% of listening happens through a computer, compared to 71% through a smartphone.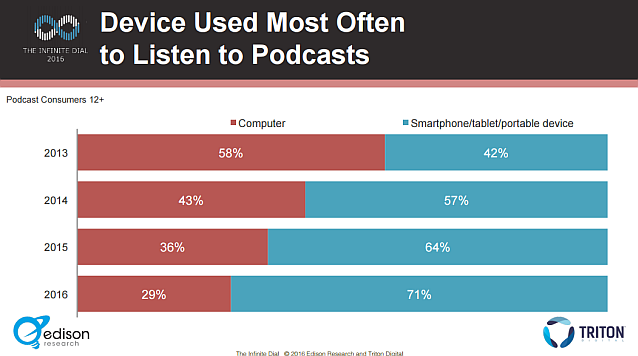 One of the interesting metrics in this years Podcast Consumer describes podcasting as a streaming medium, not a downloading medium. A whopping 79% of users have streamed podcasts — defined as "Click on podcast and listen immediately." When asked for the method of listening used most often, 59% of respondents replied that way. Only 23% "most often" download shows to listen later, and a bare 15% use the complete traditional method of subscribing, downloading, and listening later. that venerable use-case is fading fast, according to this research.
At the end of today's presentation, Tom Webster professed a reluctance to make predictions, but was emboldened to say this: "Podcasting has been a medium of slow, steady growth. This year, we saw a spike we haven't seen before. If we're looking for that hockey stick pattern, I'm willing to give you a confident 'maybe'."