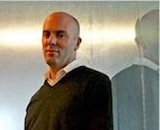 Spotify has hired Courtney Holt as the new head of its Studios and Video departments. He replaces Tom Calderone, the former VH1 exec who departed the company earlier this month. Calderone spearheaded the development of Spotify's programming in video and podcasts.
Holt joins the streaming service from Disney, where he worked following the acquisition of online video company Maker Studios. He ran that multi-channel network for nearly six years before moving into a broader strategy role at Disney. Holt also has more traditional music industry work on his resume, including time with MTV Networks, Myspace Music, and Interscope.
Earlier this year, Spotify began testing video content in some of its more popular playlists. The company has also debuted several original video series, including Traffic Jams and Trading Playlists.