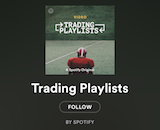 Spotify is continuing its original video expansion with a new show called Trading Playlists. The program's seven episodes pair up players from the National Football League to chat about their listening preferences and favorite tunes. The series is the result of work by Spotify, ACE Media (the NFL Players Association's cont arm), and multichannel network Collab.
Trading Playlists shows "a side of our players that their fans don't often get to see, through a medium — music — that unites athletes across all sports," ACE Media CEO Scott Langerman said. "We look forward to working with Spotify to bridge the gap between sports and entertainment for many years to come."
Spotify's first original video projects include an animated series about music history called Deconstructed and a Metallica documentary.