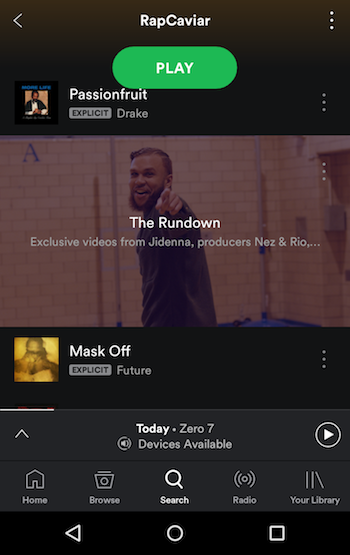 Listeners browsing through Spotify's RapCaviar playlist may find themselves becoming viewers. The streaming service is experimenting with a mixed audio and visual format in its popular rap playlist. Clips range from an intro and outro video for the curated playlist to full-length music videos.
They appear as separate entries with animated teasers on the Spotify mobile app. Although some sources have reported seeing the videos in the desktop version as well, we were unable to confirm that the new format is also being tested on that platform. So far, the addition of videos appears to be a U.S.-only test run.
For some time, Spotify has been working to expand from just music to become a more fully-rounded entertainment hub. It has explored partnerships in podcasting and launched several original video miniseries. Video in particular has captured the interest of many music platforms. Apple Music has been using the leverage of its exclusive deals with top artists to help performers create video projects, such as Drake's viral hit "Hotline Bling." Beyoncé's Lemonade, a major cultural zeitgeist of 2016, was just as impactful for its video components. And from a business standpoint, well-executed video also increases the odds of a user staying more directly engaged with the platform.