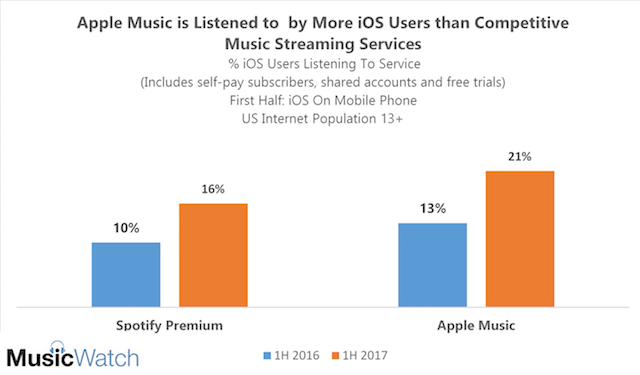 The latest results from MusicWatch found some positive data for Apple Music, pointing to continued growth for one of the newer players in the streaming music industry. A new survey showed that Apple Music is the most popular paid music subscription service for iOS users. In the first half of 2016, 13% of iOS users reported listening to Apple Music. That rate rose to 21% for the first six months of 2017. Spotify Premium trails behind Apple Music's numbers, although it did also see growth from 10% in H1 2016 to 16% in H1 2017.
In the second quarter of 2017, Spotify held the largest share of iOS listening hours on paid platforms at 32%, while Apple Music had 23%. Amazon's music services secured a 13% share of listening hours, followed by Pandora's subscriptions with 11%. MusicWatch lumped Tidal, YouTube Red, Napster, SoundCloud, Sirius XM, and Slacker into an "Others" category that took the remaining 21% of listening time.
It makes sense for Apple Music to have a solid presence on the smartphone made by the same company. But the its spike in users between 2016 and 2017 outpaced that of Spotify, which does bode well for the Apple product. Paying subscribers are increasingly important to Spotify's bottom line, while Apple's hardware operation means that it is less directly impacted by the financial highs and lows of its streaming outlet. Plus, with smartphones continuing to be a prime platform for music consumption, it's good news for Apple to see its service holding a lead.