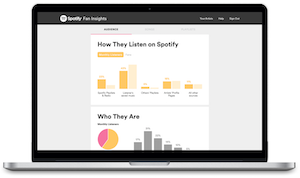 Spotify has unveiled a new tool for musicians and labels called Spotify Fan Insights. This dashboard will offer data about a performer's Spotify listeners and fan base in order to facilitate more growth. Fan Insights includes demographic data about listeners, their location, their other listening preferences, and their level of fandom. The tool could provide information that artists and their teams can use to grow their audiences on the streaming platform. It includes sections titled "How They Listen" and "Fan Engagement," complete with elegant graphics. For now it is only in limited beta, but artists can request access from the company.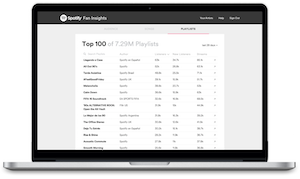 Data and how to use it has been one of the big stories we've been seeing in the streaming and online music space. At this stage, there's increased interest in getting a peek behind the curtain at the vast stores of information any operation the size and scope of a global streaming platform would have. For instance, Pandora launched the Artist Marketing Program, or AMP, last fall. This tool gave audience analytics data to musicians so that they could examine their performance on the platform and position themselves for the most success. Digital distributors are also putting renewed focus on delivery data to their customers. For instance, TuneCore introduced a suite of Artist Services that range from analysis of individual tracks to artist promotion tools.
Spotify has always been a data-focused enterprise, but until now, that information has not been outward-facing. It has allowed the company to offer better recommendation tools, cool playlists, and fun interactive features. It also purchased Seed Scientific this summer, a big data company that was expected to focus on interactions between artists, listeners, and brands. It's not clear if this new data feature is the result of one specific acquisition or just a push have strong features to compete in the digital marketplace. It seems likely that artist-focused analytics will become par for the course in the streaming industry, which seems like a good way to encourage artist participation.