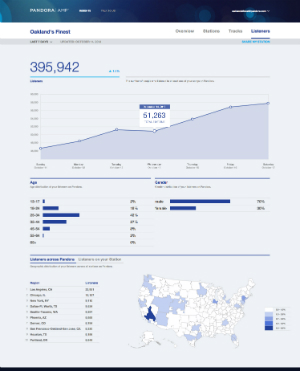 Pandora has launched a new online service that delivers audience analytics to musicians and their managers. Called Pandora AMP, the "Artist Marketing Program" includes data pulled from the many billions of hours people spend listening to the online radio platform. According to the press release, the daily-updated data include song-by-song performance information, number of fans creating a station for each artist, listener information, and a geographic heat map of where a musician is building a U.S. audience.
Any artists currently playing on Pandora can sign up for the free service at the AMP website.
This data dashboard of an artist's listening metrics holds a promise of being uniquely valuable — both for artists and for Pandora's relationship with musicians who find the entire streaming realm opaque. On-demand service Spotify has offered greater transparency of the royalty payment system. Pandora's initiative is not about artist payouts, but takes an evolutionary leap forward in revealing how and where a band's recordings are being heard in the market-leading Internet radio service.
Pandora has long been a Big Data company. Until now, most of the data intelligence has been turned toward listeners (serving customized music) and advertisers (targeting user attributes and segments). Pandora AMP turns the data firehose toward musicians for the first time, giving them what Pandora intends to be actionable information about song success and touring hotspots.
Pandora has suffered criticism from portions of the artist community, mainly for its attempts to control its major cost — music licensing. (Those royalty rates are set by the U.S. Government, and followed by all services in Pandora's category.) Pandora AMP might help smooth the general artist-Pandora relationship. But that notwithstanding, it appears to be a valuable and unique resource for musicians.
Pandora also used the launch as an opportunity to share some specs about its growth since launching nearly a decade ago. More than 50 billion hours of music have been heard on Pandora in that time. Listeners have input more than 45 billion Thumbs up or down for the tracks and more than 7 billion stations have been created. In June 2014 alone, Pandora had 1.61 billion listener hours.
Pandora AMP is being launched a day before the company releases its Q3 earning report. Pandora's earnings call will be at 2pmPT/5pmET on Thursday, October 23 (Webcast here). Audience data will play a big part in that call, as earlier this year Pandora switched from monthly announcement of audience metrics to quarterly updates.