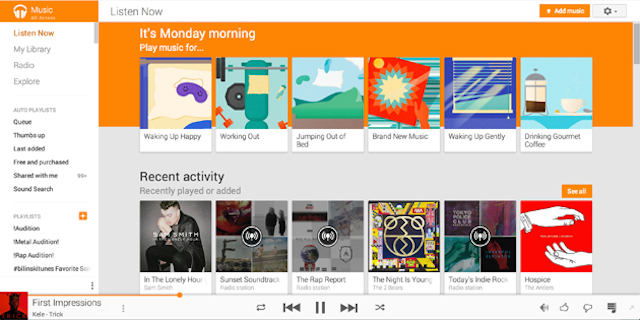 The latest update to Google Play Music All Access reflect some of the features that entered Google's hands when it purchased Songza. The streaming platform has adopted music stations to its Listen Now page that cater to particular moods or activities. This riff on Songza's Concierge service considers the time of day, device used for listening, and other signals to assess what your state of mind or current actions might be, then supplies the appropriate music.
Elias Roman, currently Play Music product manager and previously a Songza co-founder, spoke with The Verge about the new version of the service. He emphasized that the stations are compiled by people (likely many of the hires brought on from Songza) rather than by a computer algorithm. Many other services, from Rhapsody to Beats Music, have presented their own takes on this concierge idea, but Roman insisted that Play Music is the best and fastest. "You can take a lot of implicit signals into account to make a really good recommendation before you've made the person work for it," he told The Verge. "We really want to do that."
The update is only available to All Access subscribers, meaning there are no ads in the listening experience. The music platform also got a new look with Google's so-called Material Design style, which includes bolder colors and cleaner animations within the app.