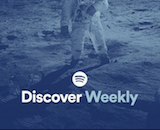 Spotify's Discover Weekly playlists have quickly become a huge success with the streaming company's listener base. The feature has had 1 billion tracks streamed in the 10 weeks of its existence. And it seems to be hitting the right notes, too: 71% of people who listen to it save at least one song to their own playlists.
The Spotify tool is one of a handful of self-proclaimed recommendation engines that has really knocked it out of the park. We at RAIN have been contributing our fair share to the above stats, and each week have been impressed at the feature's consistency. Sure, not all songs are winners, and some weeks' selections are stronger than others. But the overall presentation has been solid, and that has born out anecdotally among other peers and friends who have tried it.
The reason is a very savvy use of listener data. It tracks one listener's song choices then finds them played in other user playlists. That's where it finds other tracks to include for you. "We look at what you've been listening to," Matt Ogle, who leads Discover Weekly at Spotify, told Tech Insider. "And what are the songs playing around these songs that you've been jamming on but that we know you haven't heard yet on Spotify."
While the algorithmic approach still has plenty of vocal detractors, the success of Discover Weekly shows that the right mix of computer alchemy can in fact yield gold.