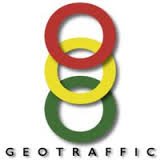 As spoken-word audio increasingly shares the stream with music, utilitarian content can sit next to entertainment content. As such, it's not surprising that streaming traffic is a rising category. We recently reported that Rivet Radio had added that component to its offering.
This week RAIN News spoke with Frank Rizzo, CEO of GeoTraffic Network, which provides hyperlocal, on-demand, human-voiced streaming traffic reports in five major-city market.
For Rizzo, a traffic product marketed to audio publishers of all sorts (traditional radio and pureplay) must differentiate in quality while adding a monetization piece that benefits everyone. "We bring the value of the spoken word ad model to the digital platforms for traditional media," Rizzo told us. "Enhancing that with geo-location, it's great stuff."
GeoTraffic's platform focuses on traffic hot spots, what Frank Rizzo calls "red roads." That usually means major arteries, with corresponding coverage of secondary and tertiary roads. The road information is sourced from outside providers, then layered into the Geo-Traffic platform via live-read reports. The whole thing can be customized by the end user, who might request a particular road (e.g. I-95 in Philadelphia) during evening rush hours. "It can be like the next song in a music service," Rizzo said.
Geo-Traffic provides a test mobile app for anyone who doesn't live in a current market city (Chicago, Philadelphia, Atlanta, San Francisco, Los Angeles). We listened to reports via that app. They delivered granular information such as MPH ranges in congested spots, delay times, and road construction reports. A sponsor was mentioned pre-roll fashion, with about 20 seconds of copy read by the traffic-caster at the end.
GeoTraffic implements a revenue-share model with licensees, and while he declined to quote exact numbers, Frank Rizzo told RAIN that he sees double-digit CPMs. (Podcasting, which also makes heavy use of live-read sponsorships, likewise enjoys double-digit CPMs that can range widely.)
Stations have flexible options when adding GeoTraffic to their apps. "The reports can be pushed or pulled in any number of different ways," according to Rizzo. "At no cost, the platform is designed for choices while also creating a new and valuable revenue stream."
Monetizing the service can also go different ways — Frank Rizzo told us that many stations want to sell into the service with their in-house staff. But when platform partners don't have a sales force (Rizzo mentioned Panasonic, which implements GeoTraffic in some of its products) GeoTraffic can provide the sponsorships. "We have some sponsors in place, but we hear from radio stations that they want to sell into the traffic reports," he said. "That's fine. We don't consider ourselves an ad sales company. We are in partnerships."