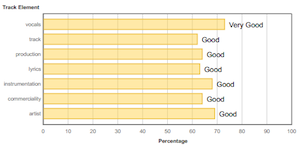 TuneCore announced the launch of Artist Services, a new portal to help musicians handle the business side of their craft. It includes resources for building a website, managing merchandise, and engaging with fans.
It also introduced a unique feature called Track Smarts for music research. Powered by SoundOut, Track Smarts can show detailed information about songs, from ratings of individual song elements to data on listener demographics. It gives detailed insights about what song elements listeners like and dislike, helping the musicians to make smarter decisions about their songwriting and track choices.
Artist Services is a natural extension of TuneCore's mission to help musicians get their creations on digital channels. CEO Scott Ackerman explained the artists' motivation for joining in a recent interview with RAIN. "Most of our artists tell us that the number one reason they come to TuneCore is not making money, but it's important to them, but because they want to be heard worldwide," he said.
Understanding the business is a key step in reaching those listeners. Talented independent and new artists are more likely to get that exposure if they can navigate the streaming and digital download environment.
"If the trend continues, there will come a point when streaming will be equal or will surpass download revenue," Ackerman told us. Artists must be flexible in this changing music landscape, but the need for information and a strong digital presence will likely be unchanged no matter what listening platform is the flavor of the week.